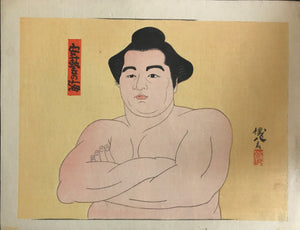 Gihachiro Okuyama (1907 - 1981)
A prolific artist, Gihachiro Okuyama was active in both the shin-hanga and sosaku hanga traditions starting in the late 1920s.


An unusual subject for the artist, who is best known for his shin-hanga landscapes and sosaku hanga works. These perceptive portraits sensitively capture the features and characters of the wrestlers, and are drawn with delicate line work that creates an interesting contrast with the bold, muscular figures. Minanogawa Tozo was promoted to yokuzuna in 1935 and retired in 1942, so the print may have been created in the 1940s or 1950s.

Image Size - 6 3/4" x 9"