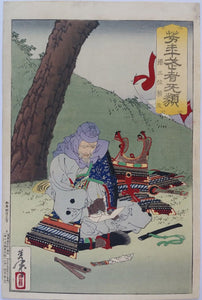 Yoshitoshi
Series: Courageous Warriors ( Warriors Trembling With Courage)

Topic: Samurai About To Commit Seppuku (Suicide) Writing Note. Famous Historical First Recorded Samurai Suicide) 
There are at least 3 editions of the first printing of this series. The first is usually (as with all things with Japanese woodblock prints, there are always exception to every rule) denoted by two small square red seals in the left-hand margin, and the title cartouche has several inclined bokashi stripes across it (which makes sense for the earliest, since it was the most work to produce). Very late editions are said to lack not only these, but the black line around the image. 
It was also re-published by Tsunajima Kamekichi in 1886; although a later printing, copies from this run are usually quite well printed. Instances from this printing may be distinguished by the use of a plain grey field in the title cartouche.
Condition: Print color and overall condition is very good. Margins as shown. No tears or holes. Print is not backed.
Dates: 1886
Publisher: Kobayshi Tetsujirō
Block carvers: Horikō Muneoka, Wada