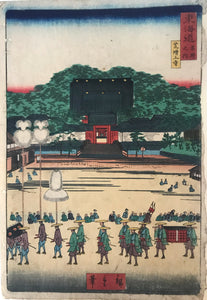 Hiroshige II 
The Processional Tokaido - Print from a Tokaido series done to commemorate the journey of the Shogun from Edo to Kyoto in 1863 to pay his respects to the Emperor. 
Many different artists contributed designs for the series, including Kunisada, Yoshitoshi, and Hiroshige II. This fantastic collaboration resulted in a total of 162 prints by 16 artists, issued by 24 publishers! These lively images show the procession winding through the countryside, stopping at villages, or taking part in special festivities to celebrate the occasion. Many prints provide a panoramic view of lovely scenery.
Date:  1863
Condition: Print is backed, good color, some stains, left border has some pinholes and right border is frayed as shown.