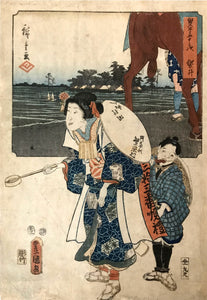 Kunisada and Hiroshige
Fukuroi: A Female Pilgrim (Onna junrei) - From the series "The Fifty-three Stations by Two Brushes" - Number 28 in the series. Attractive scene of a woman making a pilgrimage, wearing a traditional white pilgrim's vest over her blue print kimono. She leans forward with a smile as she holds out a water dipper, a string of prayer slips around her neck. The young boy behind her enjoys a snack from a skewer as he waits. The inset above by Hiroshige offers an unusual perspective of Fukuroi, as seen from the level of the road with a horse and porter at right. Fields stretch out into the distance with a village nestled beneath the trees beyond. 
A collaboration work by the two masters, Kunisada and Hiroshige. The landscapes of Tokaido in the upper inset by Hiroshige. The lower part of the print features large figures associated with each station by Kunisada I (Toyokuni III). They often represent a legend, kabuki scene, famous shops, temples, etc.
Condition: Print color saturation and overall condition is good. Margins as shown. A little wrinkled. Print is not backed.
Date: 1854
Engravers: Yokokawa Takejirô (Hori Take, 彫竹)
Publisher: Maruya Kyûshirô 
https://www.mfa.org/collections/object/fukuroi-a-female-pilgrim-onna-junrei-from-the-series-the-fifty-three-stations-of-the-t%C3%B4kaid%C3%B4-road-by-two-brushes-s%C3%B4hitsu-goj%C3%BBsan-tsugi-536851