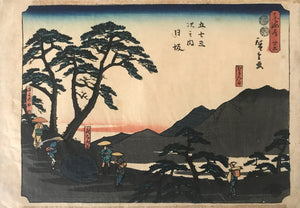 Ando Hiroshige
No. 25, Nissaka: Mount Mugen, the Night-crying Stone, and Sayo Mountain Pass (Mugenzan, Yonaki-ishi, Sayo-no-nakayama), from the series The Tōkaidō Road, The Fifty-three Stations (Tōkaidō, Gojūsan tsugi no uchi).
The Kichizo Tokaido is named after the publisher of the series, Tsutaya Kichizo. The series was created in chuban size in landscape format (yoko-e). It consists of 54 designs and was published between 1850 and 1851.
Condition: Margins as shown, good condition, not backed.
Date: 1850-51.
Publisher: Tsutaya Kichizo.
https://www.hiroshige.org.uk/Tokaido_Series/Tokaido_Kichizo.htm