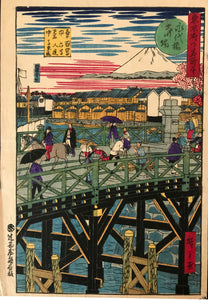 Famous Places of Tokyo 
Tokyo Fuka Meisho Zu - Eitai Bridge 
The artist Utagawa Hiroshige III (1842–1894) designed at least nine different series of prints showing similar depictions of Tokyo landmarks.  
The busy Eitai bridge. Mt. Fuji is seen in distance. Hiroshige III was - like Hiroshige II - a pupil of the great master Ando Hiroshige. After Hiroshige II was divorced from the daughter of Hiroshige I, he married her and called himself Hiroshige III and used the surname Ando. The work of Hiroshige III gives a highly interesting insight into the development of Japan after the opening to the outside world. Some of his works show subjects like for instance railway stations.
Condition: Print color saturation and overall condition is very good. Margins as shown. No tears or holes. Print is not backed.
Date: 1868
Publisher: Tsujiokaya Kamekichi 辻岡屋亀吉