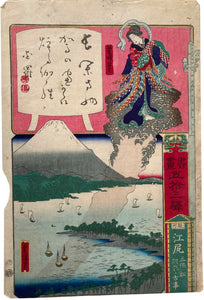 Utagawa Yoshiharu
The Old  Story of the Pine of Miho and the Feather  Robe (Miho no matsu hagoromo no koji), 書画五拾三駅 駿河 江尻 三保の松 羽衣の古事 from  the series Calligraphy and Pictures for the  Fifty-three Stations of the Tôkaidô (Shogagojûsan eki).  
Yoshiharu Utagawa depicts the celestial maiden named after the legend of Hagoromo, and Shigekiyo Utagawa depicts the scenery of Matsubara in Fuji and Miho. 14.5h x 9.5w  inches.

Publisher: Sawamuraya Seikichi
Date:1872.  
Condition: Borders as shown, some holes, not backed.
https://collections.mfa.org/objects/472429
https://museum.city.fuji.shizuoka.jp/collection/art/detail/1754