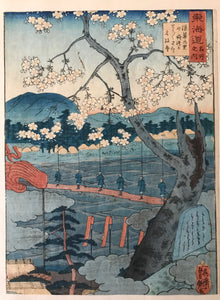 YOSHITSUYA Koko
Fukakusa Village, Grave of Shôshô, Cherry Tree of Shôshô, Gensei-ji Temple (Fukakusa no sato, Shôshô-zuka, Shôshô-zakura, Gensei-ji), from the series Scenes of Famous Places along the Tôkaidô Road (Tôkaidô meisho fûkei), aka Processional Tôkaidô (Gyôretsu Tôkaidô)
Yoshitsuya Koko was born on February 22, 1822, in Edo (today Tokyo). He was a pupil of the successful ukiyo-e artist Kuniyoshi Utagawa. Kuniyoshi had made himself a name with samurai and warrior prints and famous characters from Japan's past and from Chinese literature. Yoshitsuya followed in his master's foot steps regarding the choice of his print genre.
Publisher: Iseya Shônosuke
Condition: Good color and impression. Trimmed as shown, not backed.
Date: 1863
https://collections.mfa.org/objects/497894