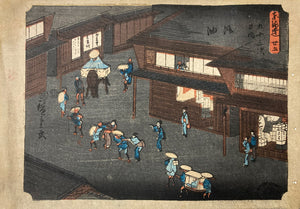 Ando Hiroshige
The Fifty-three Stations of the Tokaido Road
 - Tōkaidō gojūsan tsugi no uchi
 東海道六五十三次之内 No.36. Goyu. From the Kichizo Tokaido series.
Condition: Margins as shown, good condition and impression, not backed, pinholes on border, small hole on post about 2" in from the right side middle.
Date: 1850-51.
Publisher: Tsutaya Kichizo. 
https://www.hiroshige.org.uk/Tokaido_Series/Tokaido_Kichizo.htm