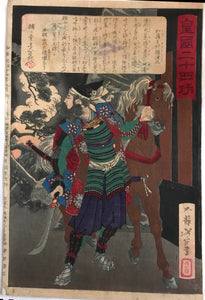 Yoshitoshi
Series: 24 accomplishments of imperial japan, plate: #9
The warrior Kato Kiyomasa stands looking back at the burning Fushimi castle. After ten days, they succeeded in taking the palace. He is dressed in full armor, with a naginata in his hand; beside him his horse, which he holds by the cheek strap of the bridle, moves restively. Behind him a pine tree is silhouetted against a rising column of red smoke. 
A wonderful image, detailed with burnishing on the armor and he black lacquer gate at right, and metallic pigment that has oxidized to a dark tone on the blade of the naginata.
It dates from towards the end of Yoshitoshi's career, when he was about forty-two. It thus dates from slightly before before his well-known masterpieces such as his great series "One Hundred Aspects of the Moon" (1885-1892), and "New Forms of Thirty-Six Ghosts" (often called simply "Thirty-Six Ghosts") (1889-1892).
The texts on the prints are by Ryūtei Tanehiko II; it is not clear whether Tanehiko wrote text to go with Yoshitoshi's illustrations, or if Yoshitoshi produced images to go with Tanehiko's text. The early group (see below) are signed 'Tentendojin'; the later group are signed 'Ryūtei Tanehiko' or 'Ryūtei Tanehiko ki' (柳亭 種彦 記 - 'Written by Ryūtei Tanehiko'). His words are poetic and allusive, and underscore the mood of Yoshitoshi's image.
Publishing commenced in 1881, and the first 16 prints were produced by the end of that year; a long hiatus then ensued, and the remaining 8 were only finally published 6 years later, in 1887. The reason for the delay is not known. When publication resumed, and the entire group was published as a set, some of the prints in the first group were re-issued with different colors .
The series was very popular while Yoshitoshi was alive, and it went through numerous printings. Several different states may be seen of these early printings (all with a red title cartouche); in some (perhaps the earliest, since it was the most work to produce) the text panel has several inclined bokashi stripes across it; in others (perhaps later), a simple band of bokashi at the top and bottom; and in others, no decoration at all.
One of the best in series, also in LACMA and MFA museums.
Condition: Print color saturation and overall condition is very good. A bit yellow with age. Margins as shown. No tears or holes. Print is not backed.
Date: 1881
Publisher: Tsuda Genshichi (first edition)