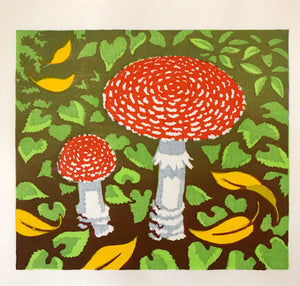 Mihoko Kasamatsu (born 1932)
Handsome design from a group of contemporary woodblocks published by the famous Watanabe Publisher of Tokyo. Watanabe commissioned contemporary artists to create designs which were printed and distributed by Watanabe to special customers only. The artists carved the blocks themselves, which Watanabe then printed on hand-made Torinoko paper. 
Condition: Margins as shown, great condition, not backed.