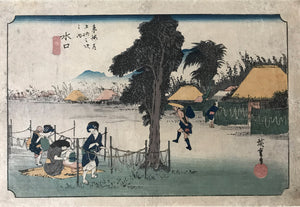 Ando Hiroshige 
Minakuchi: Drying Strips of Gourd, circa 1833 - 1834. Series; Fifty-three Stations of the Tokaido (Hoeido)
Interesting view of the village of Minakuchi, a small stop on the Tokaido Road following the mountainous Tsuchiyama region. In the foreground, three women are at work preparing kampyo (dried slices of gourd) to sell to travelers, cutting thin strips and hanging them to dry. At right, another woman drapes gourd strips along a section of bamboo fence in front of the thatched roofed houses of the village. Distant mountains appear in soft blue silhouette. Nicely detailed and shaded.
Date: Reprint from unknown year. Printed on Edo period washi paper.
Condition: Margins as shown, dirty, not backed.