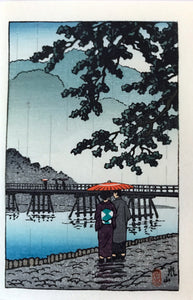 Kawase Hasui
Post card sized print. Mt. Arashi and Togetsu bridge are seen in a rainy day. Hasui Kawase is one of the best known artists of the "Shin Hanga" (new prints) movement. His prints, landscapes and town views, were created in traditional Japanese style with Western elements. Hasui had a very close cooperation with the publisher Watanabe. In the fires following the devastating earthquake in 1923, over a hundred blocks produced so far, were destroyed. In 1956, one year before his death, the artist was declared a Living National Treasure.
Watanabe Publisher, 1990-2000 printings
Size: postcard format (approx 4 x 6)
Condition: Hasui's most popular postcard designs.  Skillful "bokashi" shading, nicely detailed.