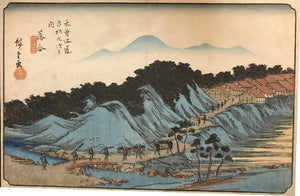 Ando Hiroshige

This series was a collaboration between Hiroshige and Keisei Eisen who produced twenty-three of the seventy prints.

We enter the Mino Province and leave the high mountains behind us. It is the end of the Kisoji, the road of the Kiso river and the road is reverting to Nakasendo, the name it had in the earlier part of the journey. A dzimyo's entourage straggles down the road to cross the Ochiai bridge as it makes its departure from the staton (1). The daimyo is in the closed palanquin (2), with its luggage (3) ahead and followed by its retinue (4). On the rough bluffs  in the background is a mass of dark foliage behind which rise the blue mountains of the Ena range (5).
Condition: Margins as shown, good condition, not backed, slight crease down center. 
Date: 1834-1842
Publisher: Takenouchi-Hoeido (1st part) and Kinjudo (2nd part)

https://sites.google.com/site/onkisokaidoroad/07-etapes-41-50/kisokaido-ochiai---etape-44

https://www.hiroshige.org.uk/Kisokaido_Road/Kisokaido_Road.htm