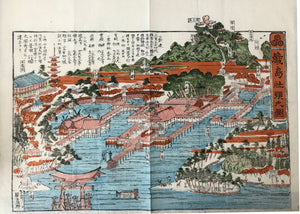 Meiji era artist (unsigned)
Located in the Seto Inland Sea, ten miles (6 km) southwest of the city of Hiroshima, the small island (12 square miles) of Miyajima is a sacred site of both Shintoism and Buddhism. Long before Buddhism came to Japan in the 5th century AD, Shinto sages lived as hermits in the mountain's forested hills.
Condition: Good impression, nice color. Unbacked.