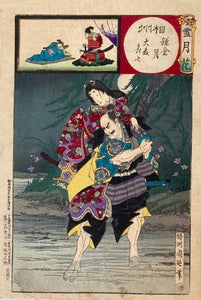 Yōshū Chikanobu
Series: Snow, Moon Flower (Setsu gekka).
"Sagami, Moon Over Kamakura; Omori Hikoshichi." Number 28 in the series. The 11th C. warrior Omori Hikoshichi had rescued Princess Chihaya, daughter of his former enemy Kusunoki Masashige. As Hikoshichi carried her across a river, he noticed in her reflection that she had horns and had transformed into a demon, intent on avenging her father's death. This is from the Tale of the Taiheiki. In this print the "horns" on the beautiful princess are merely paper hair ornaments, but when we look closely at the reflection in the water we see a terrible demoness. There are many ancient Japanese tales of beautiful young women not being trustworthy, hiding ulterior motives. 
Condition: Good impression, color and condition.
Dimensions: ôban
Date: 1884
Publisher: Kobayashi Tetsujiro