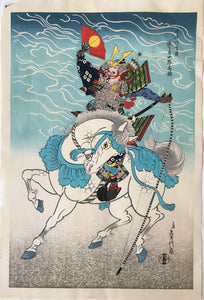 Hasegawa Sadanobu III
A posthumous woodblock print of Warrior Sasaki Takatsuna on a White Horse by Hasegawa Sadanobu III (長谷川貞信 (3代目) 1881–1963). This piece depicts a samurai on horseback. The print is titled in the upper right corner. The artist's signature is printed in-block in the lower right corner alongside an Uchida publisher's seal.
Condition: Great condition, not backed.
Publisher: Uchida Bijutsu Hangashi
Date: 1980