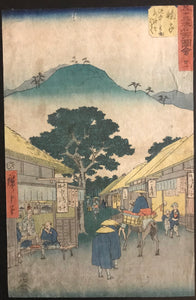 Ando Hiroshige
Series; Pictures of Famous Places on the Fifty-three Stations (Vertical Tokaido). Hiroshige's fantastic vertical Tokaido series was done in 1855 and represents a further evolution of his landscape design style, including some of his most modern designs. One of the striking features of this beautiful series was the vertical format, since the more common format for the landscape print was the horizontal. This unique approach allowed Hiroshige to experiment with the foreground and background contrasts that are typical of his work and seen in some of his other vertical landscape series. 
The concept for the vertical Tokaido grew out of the incredible popularity of the Hoeido Tokaido (his first Tokaido series). Hiroshige wanted to expand on the theme, as the public was very interested in his fascinating images of life and travels along the most important thoroughfare in Japan- the road from Edo to Kyoto. From the urban center of Edo, where the journey began, to the beautiful rural landscape of the provinces more far away, the series is a set of breathtaking illustrations of Edo period Japan.
Condition: Print color saturation and overall condition is fair. Margins as shown. Print is not backed. 
Date: 1855
Publisher: Tsutaya Kichizō (Kōeidō)
https://www.hiroshige.org.uk/Tokaido_Series/Tokaido_Vertical.htm