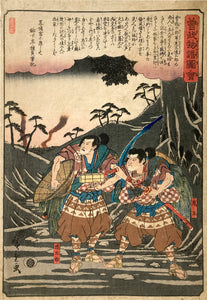 Ando Hiroshige
Two members of the Soga clan, Oni-o and Dosaburo. from the series, the Illustrated Tale of the Soga Brothers (Soga monogatari zue)
From the historic series by Hiroshige illustrating the famous tale of the Soga Brothers. Based on a true story, the father was murdered in 1175 when the brothers were aged three and five. In 1193, they finally avenged his death, killing his assassin during a hunting party at the foot of Mt. Fuji during a pouring rainstorm. This legendary story of honor and heroism was a favorite during the Edo era, and a subject for countless artists and playwrights.


Publisher: Yorozuya Kichibei

Date: 1845
Condition: Good condition, not backed.