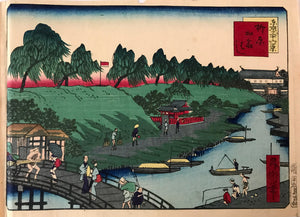 Shōsai Ikkei 昇斎 一景
 原和泉はし
These prints are from the series Thirty-Six Views of Tokyo (Tôkyô sanjûrokkei)「東京三十六景」Little is known about this artist's life.  He was a student of Utagawa Hiroshige III (1842–1894) and was active between 1860 and 1870s. He produced meisho-e of a radically changing Tokyo and comic scenes (giga) of Edo Life in the early Meiji Era, such as Comic Scenes of Thirty-six Famous Places in Tokyo (Tōkyō meisho sanjūroku gisen, 1871-1872.
By the calculations of Hatakeyama Yutaka, a curator at the Machida City Museum in surburban Tokyo where he organized in 1992 the only exhibition ever held on the the art of Shōsai Ikkei, the artist left a total known oeuvre of 132 prints (of which 24, or one fourth, were triptychs) plus six picture-books, all in color woodblock.
The only major place that I have found his prints is the Tokyo Metropolitan Library. The Lavenberg Collection also has a few prints.
Condition: The colors are vibrant and the condition is good. This print is backed.