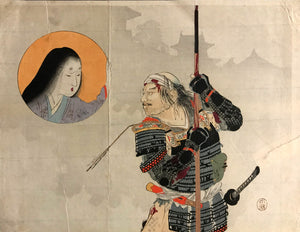 Tomioka Eisen
"Yushi Funto no Zu" Vol.4, NO.6. Frontispiece illustration from the popular literary magazine Bungei Kurabu, which was aimed at largely female readers in Meiji - Taisho era. Eisen depicted a wounded Samurai warrior and a beauty in a round inset on the left. The inset signals there is a distance between the two locations.
The Kuchi-e Tradition - Kuchi-e prints are woodblock frontispiece illustrations used in the publication of Japanese novels and magazines around the turn of the 20th century. Most of kuchi-e prints were illustrations of bijin and continued the tradition of idealized beauties in Japanese art. The subjects, however, have a decidedly Meiji era feel about them and reflect the artistic movement towards more western design. Kuchi-e prints always have two folds, because of their insertion in a magazine or book as an illustrative print.
A previously neglected genre of Japanese woodblock art, much interest has been generated in the subject since the publication in 2000 of Helen Merritt and Nanako Yamada's groundbreaking book, "Woodblock Kuchi-e Prints: Reflections of Meiji Culture."
Condition: Margins as shown, print is not backed.
 1900-1910s.
Bungei Kurabu.