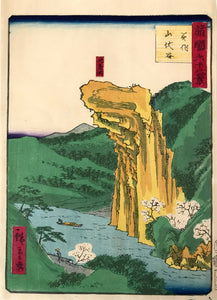 Artist - Hiroshige II 
Sixty-eight Views of the Various Provinces, #45 - Handsome design from Hiroshige II's chuban series depicting views of the sixty-eight provinces of Japan. Published in 1862, the artist portrays the beautiful scenery of the country, from rugged mountains rushing rivers to quiet shorelines and ships at sea. Attractively colored, many images include fine bokashi shading. A charming Edo era landscape series.
The image shows the giant rock called Jizō-iwa (地藏岩 地蔵), named in honour of the Bodhisattva Jizo, the Buddhist guardian deity of children. There are several large rocks in Japan named in his honour.
The river is the Tsuyama River (Tsuyama-gawa, 津山 川), a tributary of the Yoshii River (Yoshii-gawa, 吉井 川).
Condition: Margins as shown, very good condition, not backed.
Date: 1862 

Publisher: Tsutaya Kichizō (Kōeidō)