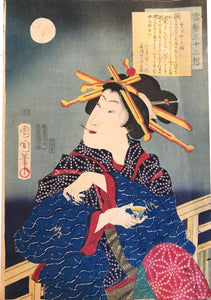 Toyohara Kunichika
From "Tosei Sanju-ni So" ("Thirty-two Fashionable Physiognomies"). One of Kunichika's major works. The series showcased still typical Ukiyo-e beauties but their face expressions and gestures were livelier and more personalized. These down-to-earth beauties were the harbinger of "the Meiji realism" which became increasingly popular during the mid - late Meiji period. 
Date: 1869
Publisher: Yorozuya Magobei
Condition: Very nice crisp print, great color, not backed, margins as shown.
Article: Newland, Amy Reigle, "Time Present and Time Past: Images of a Forgotten Master, Toyohara Kunichika" , Leiden: Hotei Publishing, 1999, ISBN 90-74822-08-11-8, - pg.17. This series is described.