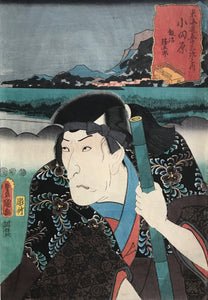 Kunisada III
Morita Kanya XI as Iinuma Katsugoro
In 1852, Kunisada was commissioned to produce a series on the Tokaido road using modified versions of the earlier Hiroshige series. In front of these borrowed scenes he depicted living and dead actors in scenes from plays that sometimes relate to the landscape or station depicted in the background. The series was an instant success: songs comparing Kunisada to great culinary delicacies and calling him the "Flower of Edo" were composed in his honour. Other series followed, notably one on the same theme set against Kisokaido Road backgrounds. The prohibition on naming actors meant that the roles only were identified.
This print illustrates a role from the kabuki play, Hakone Reigen no Adauchi. The actor here is Morita Kanya XI playing the role of the vengeful Iinuma Katsugoro. The play tells the story of Hatsuhana and her husband Katsugoro. Katsugoro's brother has been killed by the arch-villain Sato Gosuke. They decide to seek vengeance but Katsugoro falls sick on the road and loses the use of his legs. Hatsuhana pulls him the remainder of the way in the homemade cart. They confront Gosuke who has also taken Hatsuhana's mother as hostage. Unable to fight, Katsugoro is ridiculed by the evil Gosuke. Katsugoro sees his wife praying for a miracle at waterfall shrine nearby but the following morning discovers that she has been beheaded by Gosuke (along with her mother) for resisting his advances. Katsugoro, miraculously restored to health, realises it was his wife's ghost he saw praying at the waterfall, constant even in death. Kunisada pictures him leaning on a stick, against the background of Odawara Station.
This is a fine print and a terrific character study. An early edition, the background visibly displays the still fresh woodgrain of the block in the dark sky. Margined top and left, condition, colour and impression are all fine, not backed.
Date: 1852
Engravers: Koizumi Minokichi (Hori Mino) 
Publisher: Sumiyoshiya Masagoro.
https://www.toshidama-japanese-prints.com/item_645/Kunisada-Actors-at-the-53-Stations-of-the-Tokaido-Road--Morita-Kanya-XI-as-Iinuma-Katsugoro.htm
https://toshidama.blogspot.com/2013/10/journeys-in-japanese-prints.html