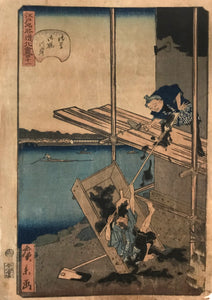 Utagawa Hirokage
No. 41, Onmayagashi Embankment in Asakusa (Asakusa Onmayagashi), from the series Comical Views of Famous Places in Edo (Edo meisho dōke zukushi). the caricature from "Ashishiro no Fuji"

『江戸名所道戯盡 四十一 浅草御厩川岸』、葛飾北斎の「足代の不二」を題材とした滑稽画。
Utagawa Hirokage (歌川 広景), also known as Ichiyūsai Hirokage, was a Japanese designer of ukiyo-e woodblock prints, who was active from about 1855 to 1865. He was a pupil of Utagawa Hiroshige I. From 1860 to 1861, Hirokage designed the series of ōban size prints titled Edo meisho dōke zukushi (Joyful Events in Famous Places in Edo). His reputation is based primarily upon this series and his 1859 triptych Aomono sakana gunzei daikassen no zu (The Great Battle between the Fruits and Vegetables and the Fish)
Date: 1860
Condition: Print is quite dark and has dirt.
Source https://ja.ukiyo-e.org/image/metro/025-C003-042