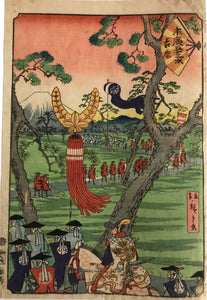 Hiroshige II
末廣五十三次 吉原 - Suehiro goju-san tsugi - Folding Fan Fifty-Three Stages of Tokaido. The main theme of this series is quite similar to that of "Shogun Tokaido". A long procession of a "daimyo" (feudal lord) is traveling on the Tokaido Highway. The picture designs were also contributed by different artists such as Hiroshige II, Kuniteru and Yoshitoshi showing variety of styles and view points.
This one shows the lord on horseback and the long procession travelling a winding country road from which "Hidari Fuji" can be seen.
Condition: Print color saturation and overall condition is very good. Margins as shown. No tears or holes. Some scuffing in lower right corner. Print is not backed.