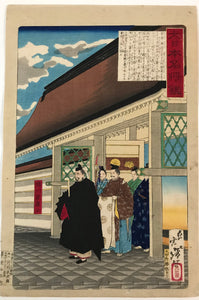 Tsukioka Yoshitoshi
SERIES: A Mirror of Famous Generals of Japan (#11).
This series dates from a 5-6 year period in Yoshitoshi's career of much personal and financial difficulty. Although well known and reasonably productive, Yoshitoshi went through several periods where he was quite destitute and dependent upon supporters for upkeep.
The series, 'Mirror of Famous Generals of Japan,' was very well received, and sold well. The series features images of warriors from throughout Japan's history with accompanying text. Many editions appear to have been issued, with differing color schemes and quality of impressions.
Condition: Print color saturation and overall condition is very good. Margins as shown. Print is backed with paper.
Date: 1878
Engravers: Hori Mina, Horiko Ota Hidekatsu
Publisher: Kumagai